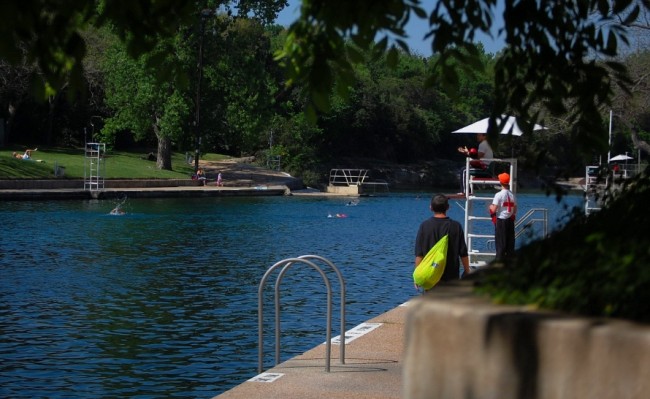 For the first time in over two months, Central Texas has an endless forecast of pure sunshine, which means it's finally time to have some fun in the sun. Now that the weather seems to be shaping up, we figured it's time to roll out a list of the best swimming spots in the greater Austin area, including natural and man-made pools, springs, rivers, and lakes – all of which are perfect for taking a nice, cool summertime dip. (The following list originally appeared Do512.com.)
As reported by DO512.com:
Barton Springs
Within Zilker Park's 358 acres lies one of the crown jewels of Austin – Barton Springs Pool. The pool itself measures three acres in size, and is fed from underground springs with an average temperature of 68-70 degrees, ideal for year-round swimming. Barton Springs attracts a diverse crowd of people and has seen record setting numbers of visitors nearing 800,000 in recent years. Photo via HerronStock.
Deep Eddy Pool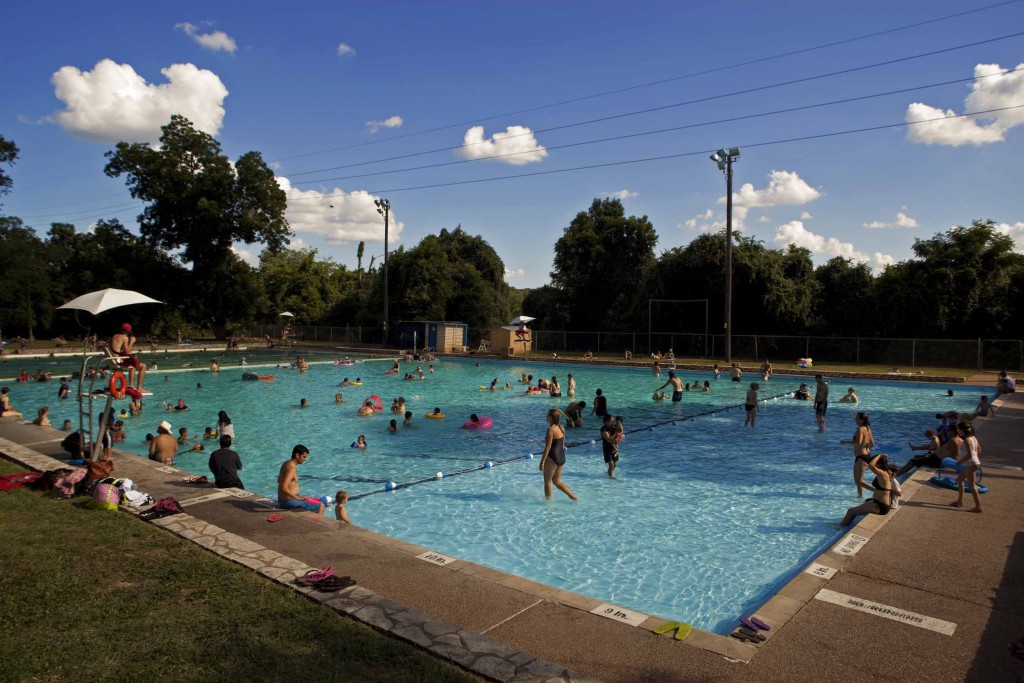 This historic, man-made swimming pool is the oldest swimming pool in Texas. Deep Eddy Pool is listed as a historic landmark on the National Register of Historic Places, and it even has a bathhouse built during the Depression-era. The pool began as a swimming hole in the Colorado River, became a resort in the 1920s, and is today a popular swimming pool operated by the City of Austin. The nearby bar, Deep Eddy Cabaret, is also a favorite watering hole for locals. Photo via HerronStock.
The W Austin Wet Deck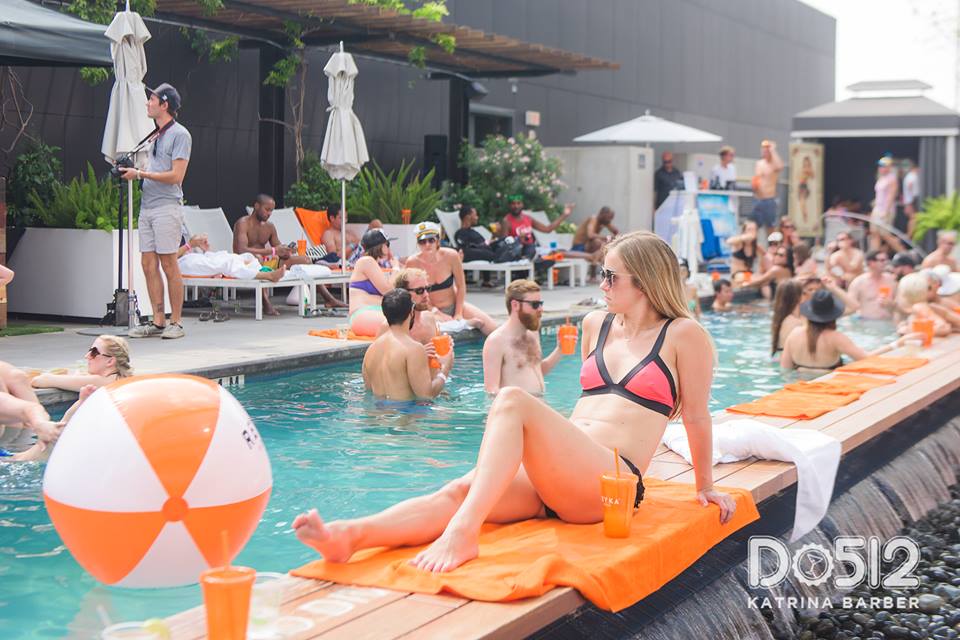 You can swim with a great view of the skyline this summer with a day pass for the WET Deck at The W, available for $30. The pass includes free parking, and the WET deck features private cabanas, lounge chairs, tanning shelves, and two outdoor showers to rinse off. Day passes available Thursdays-Sundays only. Summer also means Sunday Fundays with music by Bird Peterson & DJ Kurupt from 12 pm – sundown.
Quarry Lake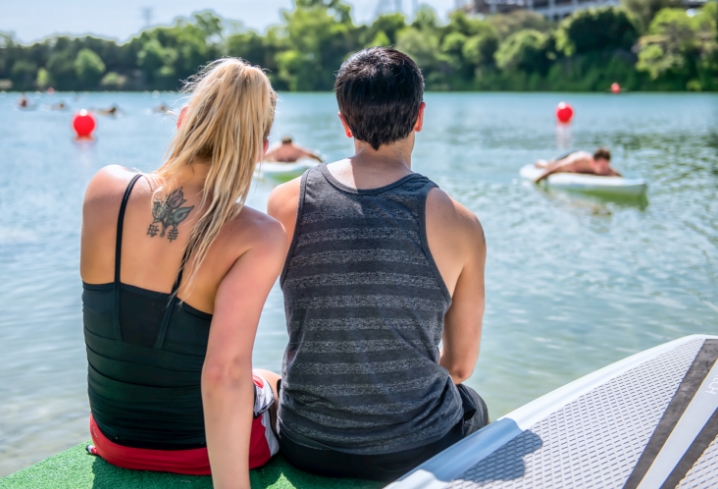 If you're a member of Pure Austin Fitness – whose tagline is "we're not gym people either" – you can frolic in the waters of their own private lake. (If you're not a member you can [obtain] a day pass [which] costs $20.) Located on Braker near the Domain, the private lake offers everything from open water swimming and SUP, to dockside yoga and trail running. There's also a climbing wall and a cafe for refueling. Photo via Pure Austin.
Shipe Pool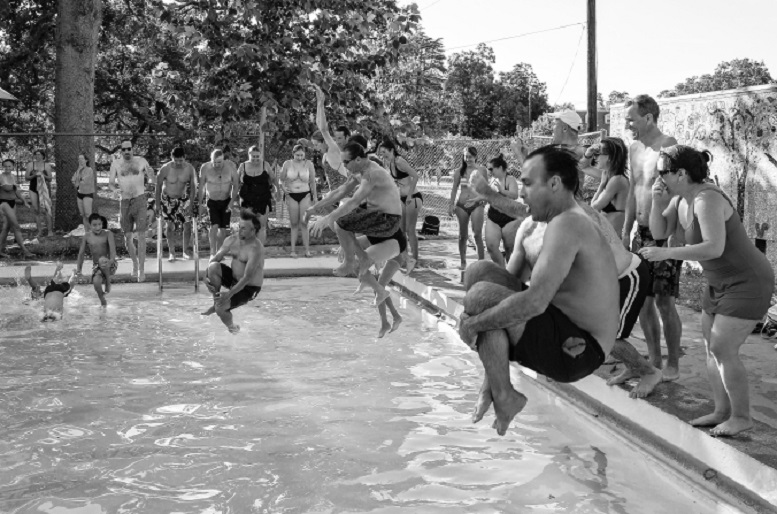 Shipe Pool is located in the Hyde Park area of Austin and is one of the best recreational public pools in Austin. It's famous for the Shipe Park Mosaic Mural and surrounded by fields, playgrounds and sports courts. The pool itself is primarily a lap and recreational swim. Photo via Friends of Shipe Park.
Bartholomew Pool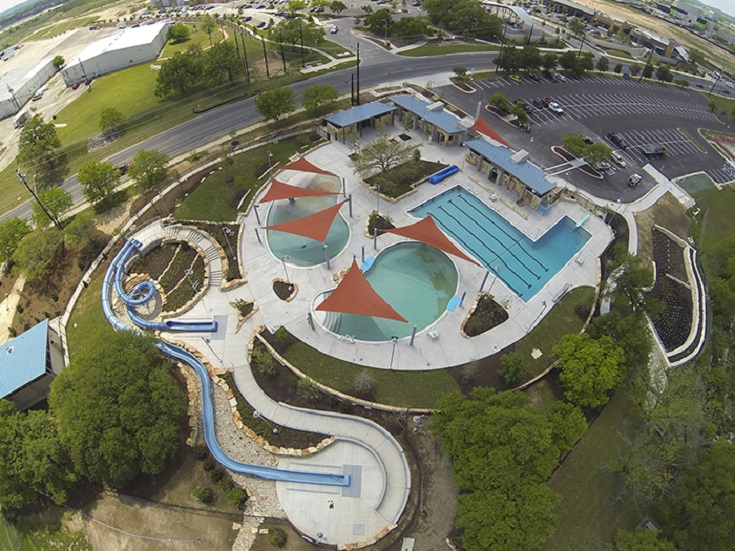 The City of Austin recently renovated Bartholomew Pool, which offers two child-friendly pool areas a four-lane, 25-yard lap pool with a 12-foot deep-end and diving board, and two side-by-side, Schlitterbahn-style, winding blue-tube water slides. Says the Statesman: "Though it took years to build, and cost about $1 million more than expected , Bartholomew Pool is now one of the crown jewels of Austin aquatics with more amenities than any other city-owned pool in Austin." Photo via austintexas.gov
Mabel Davis Pool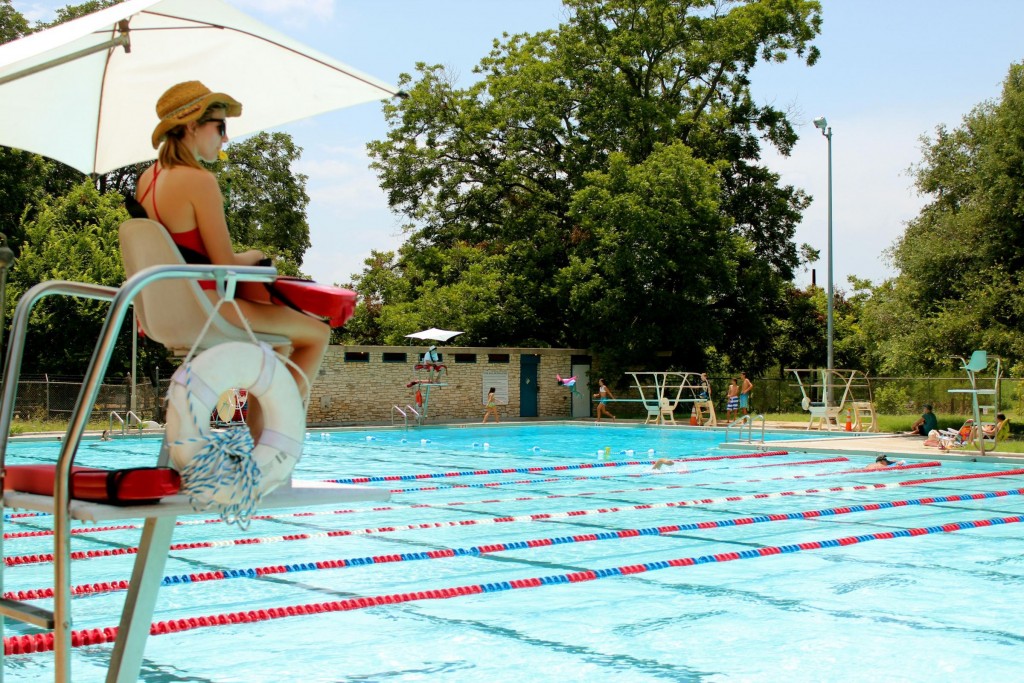 Home to Austin's first public skate park, Mabel Davis Pool is a municipal pool that offers recreational swim and scheduled times for lap swimming. In addition to the olympic-sized pool, the park features a 12,000 square foot skate park and hiking and walking trails. Photo via KUT.org
McKinney Falls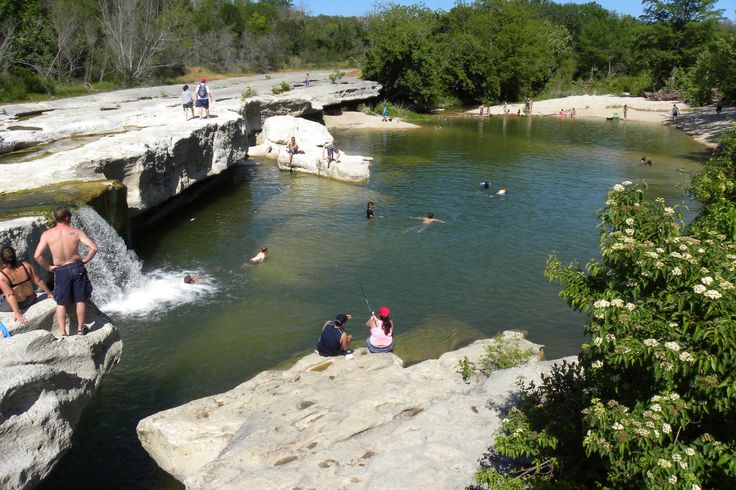 McKinney Falls State Park is in Austin, just 13 miles southeast of the State Capitol (map). There is lots to do at the park, from swimming, to camping, to hiking, to mountain biking, to fishing and more. You are welcome to camp as well, more info on that can be found here. There are lots of trails, lots of wide open spaces and water that you can wade or jump in. Photo via HubPages
Twin Falls and Sculpture Falls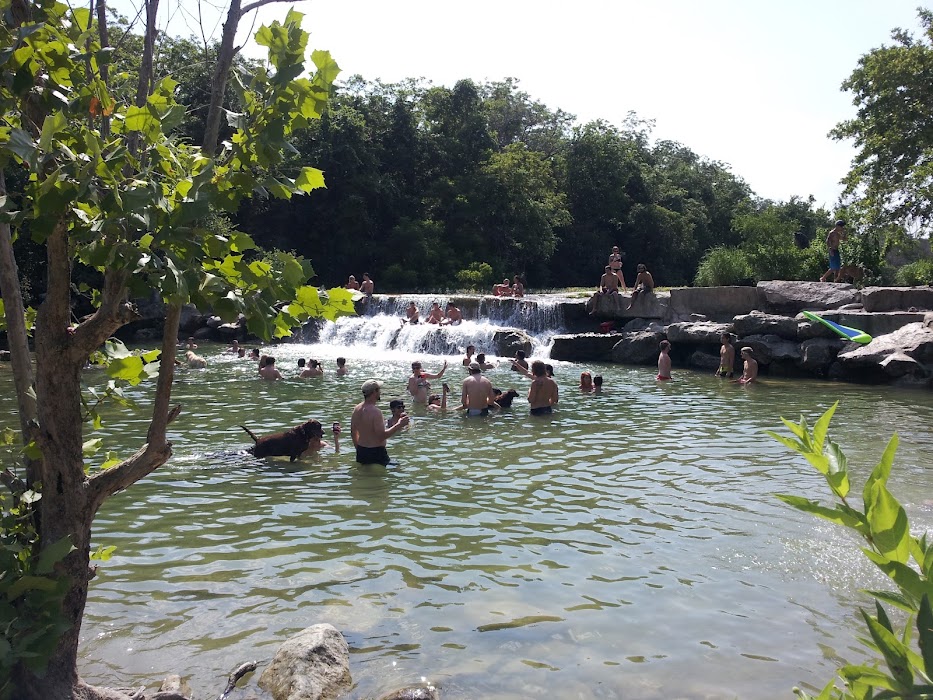 If you're down for a hike along the Barton Creek Greenbelt, you can cool off at Twin Falls and Sculpture Falls, where there are multiple spots to enjoy the creek, cliffs for rock climbing and areas to kayak. If you have the legs for this hike and swim, find details & directions here. Photo via Barton Creek Home.
Hamilton Pool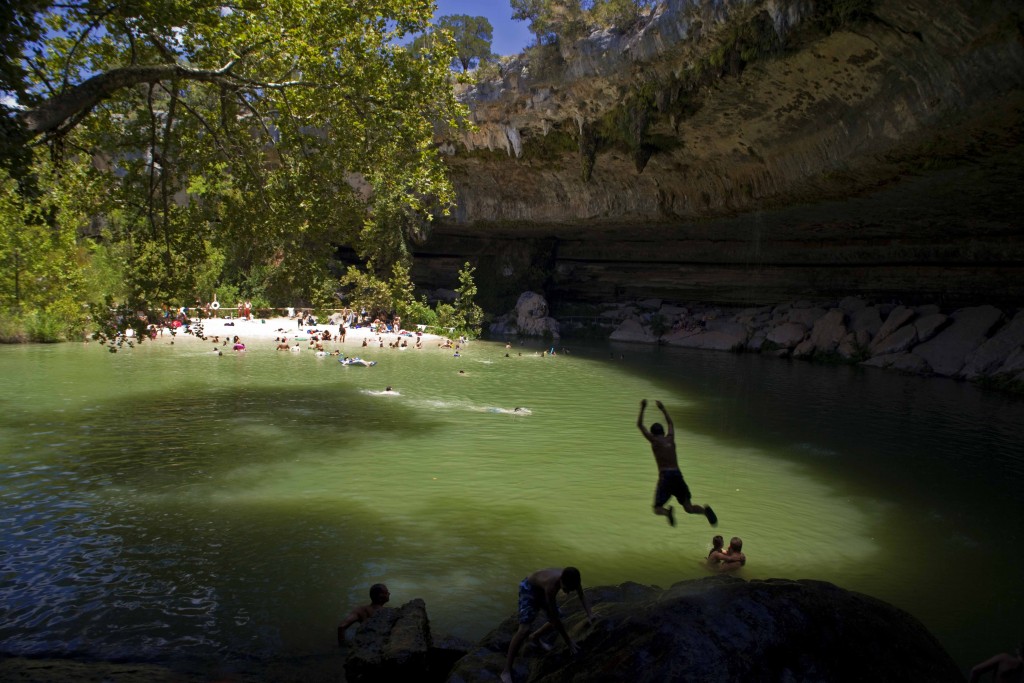 The historic swimming pool, located just 40 minutes outside of downtown Austin in Dripping Springs, is actually a collapsed grotto which now sports a 50 foot waterfall and unique rock formations that encircle the pool. Visitors can choose to swim, shade themselves in the rock shelf located behind the waterfall or explore the numerous hiking trails located in the park. Be sure to call before you visit (512-264-2740), sometimes they shut down swimming depending on the conditions. Photo via HerronStock.
Krause Springs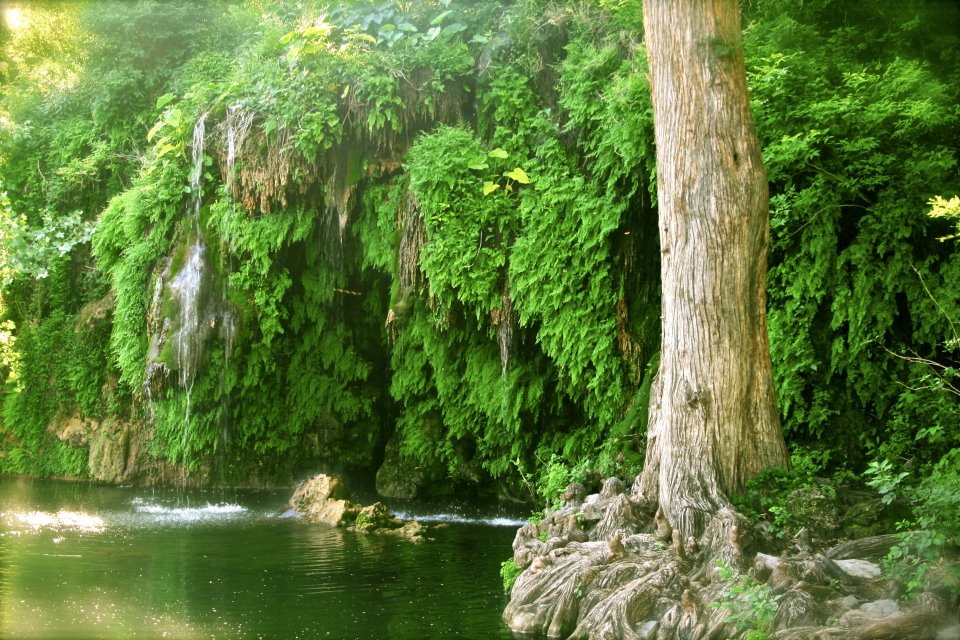 Listed in the Natural Registration of Historical Places, Krause Springs is surely one of the most magical places to swim. Located 30 miles outside of Austin, Krause hosts over 34 small springs, a waterfall, a man-made wallowing pool and a natural swimming pool. If you are planning to stay the weekend, there are plenty of camping areas and Opie's BBQ is just around the corner. Photo via Krause Springs on Facebook.
Blue Hole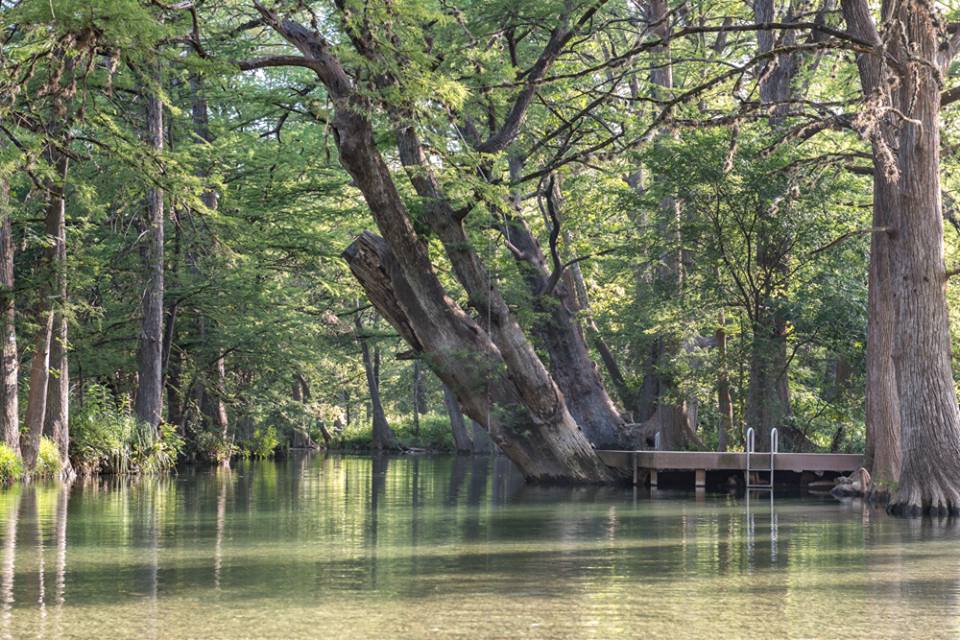 Hidden in the center of Wimberley, Blue Hole is surrounded by 126 acres of forest and grasslands and sports a unique ecosystem which houses a variety of fish, reptiles, mammals and plant species. Kids are welcome to explore the bountiful wildlife and then enjoy a dip in the Blue Hole Pool, which is surrounded by beautiful cypress trees, many equipped with rope swings. Photo via Friends of the Blue Hole on Facebook.
Sources: