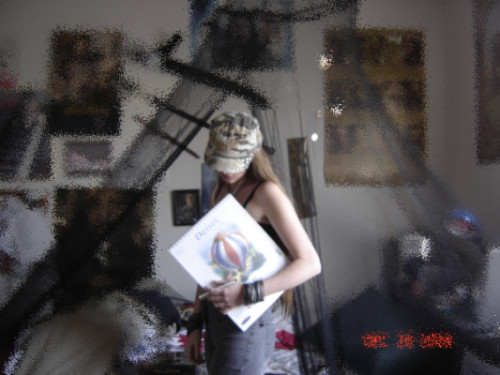 Austin now has a major international art prize that elevates the city to a new status in the global art world.
(Article by Jeanne Claire Van Ryzin)
The Contemporary Austin announced Thursday that it will be host to the Suzanne Deal Booth Art Prize, a $100,000 unrestricted biennial award given to an artist of any age, any nationality and working in any medium. In addition, the Booth Prize will finance a solo exhibit for the winning artist that will be accompanied by a major publication.
The remarkable prize might be meant as something of a surprise for a city that boasts more about its live music and its barbecue than it does about its arts scene.
"It's a nice jolt, a breath of fresh air — a way to bring new attention to the city," said Deal Booth who serves on the board of the Contemporary. "Austin needed some fresh spotlighting. And I like highlighting things that people don't always expect of a place."
Selected by a panel of experts, the first winner of the Booth Prize will be announced in late fall with the exhibition mounted in early 2018. An independent committee of art historians and curators from across the country will select a winner. The committee will change biennially with each iteration of the award.
Deal Booth said that the museum's artist-focused philosophy — its practice of inviting artists to create site-specific work at its Laguna Gloria site or use the entirety of its downtown Jones Center building — had much to do with her decision to create the prize.
"By putting an emphasis on the artist it creates something very stimulating, very fresh that people can connect with," said Deal Booth.
The Contemporary's executive director, Louis Grachos, emphasized that the Booth Prize is meant for an artist for whom such attention would be transformative.
"The prize will create a highly visible outlet for artists deserving of increased recognition and for whom the award, exhibition and publication will be transformative — whether they be an early-, mid- or late-career artist," Grachos said.
Art world veterans noted the prize's potential game-changing nature for Austin.
"For Austin this is huge — it's an investment in the city and its cultural life," said Stephanie Barron, senior curator at the Los Angeles County Museum of Art and one of the Booth Prize jury members. "It's a recognition that Austin is a growing and thriving place for artists and that the Contemporary as an institution has the international standards to support that."
Indeed, the Booth Prize could take its place alongside the art world's largest, and most newsworthy, awards.
The Hugo Boss Prize, administered by the Guggenheim Museum, awards $100,000 to an established international artist. The Turner Prize for British artists causes considerable art world buzz (with odds makers establishing gambling lines) and gives $40,000 pounds (around $52,000), but it is restricted to English artists under age 50.
Last year, Dallas' Nasher Sculpture Center inaugurated a $100,000 yearly international award for a sculptor with an already substantial career, and with the recipient celebrated at a splashy event.
Yet the Booth Prize's unrestricted nature — and its opportunity for the artist to create an entirely new body of work — distinguishes it from the pack, Barron said.
"Not only is the actual monetary prize as high as it gets, but with an additional gift of a solo show and a publication, it really solidifies its uniqueness," she said. "And with no restrictions on who can receive the award, there's an enormous openness to the whole endeavor."
Since the museum reorganized and rebranded itself as the Contemporary Austin in 2013, it has presented increasingly high-profile exhibits by a roster of notable international artists and attracted some of the largest private donations in the city's arts philanthropic history. A $9 million grant in 2013 from the Edward and Betty Marcus Foundation established a sculpture park at Laguna Gloria, the museum's 12-acre site on Lake Austin.
A native Texan, Deal Booth majored in art history at Rice University and then received a master's in art history and conservation from New York University's Institute of Fine Arts. During her studies, she had the opportunity to work with visionary art collector and philanthropist French-born Dominique de Menil while she established the Menil Collection in Houston, now recognized as a leading world museum. Deal Booth had a postgraduate fellowship restoring 20th century paintings at Centre Pompidou in Paris and worked at the Getty Conservation Institute in Los Angeles.
As a patron, Deal Booth's interests have straddled contemporary art and cultural heritage preservation. She founded the charitable organization Friends of Heritage Preservation, which supports arts preservation projects worldwide. In Houston, her patronage brought an enormous permanent installation by famed light artist James Turrell to the Rice University campus.
In Austin, Deal Booth is a key donor to Blanton Museum of Art's plans for a pavilion by Ellsworth Kelly, the only stand-alone structure designed by the late artist, one of the most important figures of post-war American abstract art.
Likewise, Deal Booth's support was key to the Waller Creek Conservancy's efforts for a site-specific installation that now sits at the mouth of Waller Creek near the Waller Creek Boathouse on the north shore of Lady Bird Lake.
Her philanthropy also extends to smaller Austin arts groups, including the Fusebox Festival, the Umlauf Sculpture Garden and the artist-run Texas Biennial.
Deal Booth was married to David G. Booth, a founder and CEO of Dimensional Fund Advisors. The couple separated several years ago.