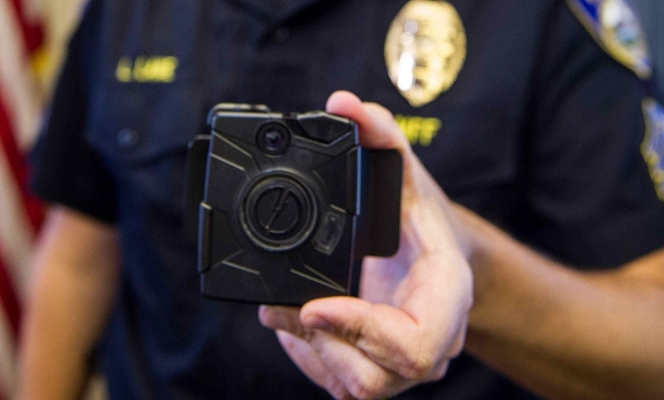 The City of Austin's plan to equip police officers with body cameras has ignited an important conversation in regards to privacy rights. While the implementation of body cameras is a step in the right direction for upholding police accountability and reducing violence by police, civil rights proponents say that the footage has the potential to violate the privacy of minors, witnesses and victims of crimes.
Without the proper safeguards in place, video streamed from body cameras could also expose sensitive information taped in homes, hospitals and shelters, civil rights advocates warn. On Tuesday, a coalition of civil rights groups met with representatives from the Austin Police Department and the Austin Police Association to discuss body cam policies that serve the community's best interests.
Members with Texans for Accountable Government, American Civil Liberties Union of Texas, Texas Criminal Justice Coalition, Austin Justice Coalition and the local chapter of Electronic Frontier Foundation participated in the conversation.
Privacy rights advocates reach agreement with police on new body cam policies
 Privacy rights advocates successfully reached an agreement regarding the purpose and scope of the body camera policy to "clearly state that the City of Austin is adopting body cameras in order to improve community relations, foster accountability for and deter inappropriate conduct by both members of the public and the police force," Justin Arman, the Executive Director for TAG wrote in a newsletter update.
The discussion also raised concerns about the possibility that police cam footage could be used for facial recognition programs or other forms of biometric data collection. However, the police department assured privacy rights advocates that none of the body cam footage would be used for facial recognition purposes.
Facial recognition technology "currently available or under development would allow departments to scan their databases of video footage for a particular suspect, to keep a database of the locations and movements of everyone they record, or to analyze video in real-time so an officer can identify suspects or passers-by based on pictures in police records or online," according to Brennan Center for Justice.
The dangers of using body cam footage for facial recognition
However, privacy rights advocates worry that combining police body cam footage with facial recognition programs "could create an unprecedented level of intrusion into private moments and everyday activities, effectively eliminating anonymity in public."
"Furthermore, because individuals may not always be correctly identified, people who simply look like the intended target run the risk of being tracked or arrested," the report from Brennan Center for Justice continued.
Privacy rights advocates intend to hold another meeting to determine how the footage will be released to the public, as well as subjects in the footage. This is "a crucial conversation since none of the other issues are relevant if the public does not have access to the video footage," stated TAG's newsletter.
On Thursday, the Austin City Council will consider a proposal (action item no. 38) to approve a $12.2 million contract with TASER to supply police officers with body camera equipment and new smart phones.
"We will ask them to postpone voting on the contract until we have agreement with APD on the policy," TAG stated.
Body cameras do not provide transparency, says police accountability activist
Not everyone is excited about Austin's new body cam program. Antonio Buehler, a police accountability activist and founder of the Peaceful Street Project, said he has doubts regarding the program's ability to actually hold officers accountable.
"Body cameras exist for prosecutors and the police, not for the people," Buehler told the Austin Sentinel. "Just like dash cameras, police have a habit of turning off body cameras when critical incidents happen. The victims of police abuse and the public are rarely able to see the videos of cops doing wrong. However, when videos show members of the public doing wrong, those videos are quick to come to light."
Buehler believes the police department has too much authority over the cameras. "They write the policies and procedures dealing with body cameras. Neither the public nor the politicians get to dictate who has control of the videos."
Nor do they have a role in determining whether police can review videos before writing their affidavits, he adds. "Body cameras as a means of transparency and accountability is a lie," said Buehler.
For more information on Austin's new body camera program, click here. To follow TAG's Facebook page for updates on this matter, click here.
Sources: