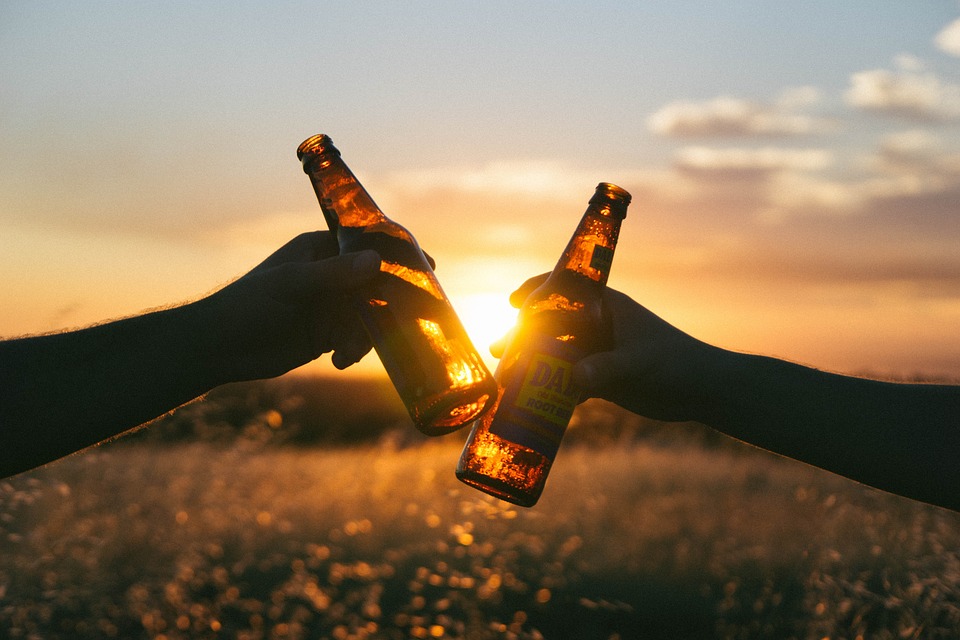 Barks for Beers, ongoing Friday, May 1 through Sunday, May 31. This fundraiser for local organization Divine Canines is a fun, easy way to give back: For $20, buy a special pint glass; get a free pint at participating breweries.
(Article by Arianna Auber, republished from http://spirits.blog.austin360.com/2015/05/01/may-drinking-events-calendar/)
Circle Brewing's .5K Micro Marathon, 12 p.m. Saturday, May 2. A 1,640 ft. race around Circle Brewing's parking lot with two pints in your hands – think you can do that without spilling too much?
Twisted X' 4th Anniversary Party, 12 p.m. Saturday, May 2. Special beer releases throughout the day, including Saison X, which was aged in Cabernet wine barrels for nine months.
Austin Beerworks' Cuatro Años, 1 p.m. Saturday, May 2. The fourth anniversary celebration for Austin Beerworks is already sold out – and with so many good beers on the menu, that's not surprising.
Whip In's 4th Annual Pink Mahal Party, 1 p.m. Saturday, May 2. Kickoff the rosé season with three glasses of the pink wine and some rosé-friendly appetizers for $25.
The Austin History Center's 3rd Annual Beer Garden Social, 2 to 4 p.m. Saturday, May 2. This year's event at Scholz Garten will focus on music of the Civil War.
Drink.Well's 4th Annual Derby Day Celebration and Julep Jubilee, 2 p.m. Saturday, May 2. Enjoy a special julep menu and Kentucky-inspired cuisine while watching the big race.
Four Season Austin's Kentucky Derby Day, 3 to 7 p.m. Saturday, May 2. Sip on Kentucky-inspired cocktails (including the classic Mint Julep) while big screen TVs broadcast the race.
Craftsman's Grand Opening Party, 3 p.m. Sunday, May 3. This new East Cesar Chavez Street bar is celebrating with good drinks and a live performance by Roxy Roca.
Arro's First Mondays Pairing, 5 to 10:30 p.m. Monday, May 4. This month's features regional French cuisine paired with a fantastic selection of rosé wines. $60 for five courses; $100 with wine.
Arro's Producer on the Patio series, 5 to 6:30 p.m. Tuesday, May 5. An intimate happy-hour tasting with French wine importer Jon-David Headrick. Sample four wines with light bites.
Cafe Josie's Wine Me Dine Me Dinner, 6 to 9 p.m. Tuesday, May 5. This five-course feast focusing on the cuisine and wines of Spain will feature Dan Redman of Mosaic Wines discussing each of the wines. $85.
Uncle Billy's 8th Anniversary Party, 12 p.m. Thursday, May 7 through 10 p.m. Sunday, May 10. Limited release beers, cask beers and special tappings including Billy's Bock, The Elegast Belgian Red, UB Trippin Tripel, and the Crazy Day Maibock. Plus, a crawfish boil on Saturday.
Firkin Tappings at Banger's, 6 p.m. every Thursday in May. The month's firkins include (512) Violet Beauregard on May 7, Lone Pint Gentleman's Relish with Vanilla on May 14 and Saint Arnold Divine Reserve #15 on May 21.
Mother's Day Wine Luncheon at Fall Creek Vineyards, 11:30 a.m. and 1 p.m. Saturday, May 9. The Tow location will have a three-course meal with wine pairings for all the special wine-loving moms out there. $36.99
Red Horn Coffee House & Brewing's Pints for Pups, 12 to 4 p.m. Saturday, May 9. A $10 donation benefiting the Austin Dog Alliance gets you a special event glass and a beer from Red Horn.
Meridian Hive's Grand Opening Party, 1 to 6 p.m. Saturday, May 9. Austin's only meadery is finally throwing a big party to celebrate. $15 for three session meads or three still meads or a combination of the two.
Metier Cook's Supply's Ice Cream and Cocktails, 1 to 3 p.m. Saturday, May 9. Ice cream cocktails made with Genius Gin – free while supplies last.
Wurstfest's Craft Beer Festival, 3 p.m. to 10 p.m. Saturday, May 9. 40 craft beers on tap, plus a variety of food trucks, because Wurstfest's November festival just isn't enough.
Bitch Beer's Blog-a-thon, 1 p.m. Sunday, May 10. Help the Bitch Beer writers raise money for their trip to Belgium with this afternoon of special beer tappings, raffle prizes and more.
La V's Boutique Spirits Dinner, 6:30 p.m. Thursday, May 14. The restaurant doesn't just have an extensive wine list. To show off its well-crafted spirits options, La V is throwing a 5-course dinner with spirits pairings. Email [email protected] to reserve a spot.
The Austin Winery's 1 Year Celebration, 6 to 9 p.m. Friday, May 15. 15% off all bottles and pours during the party at the urban winery. Plus, if you buy a bottle, you'll be entered to win a wine club membership for one year.
Spec's Fest, 11 a.m. to 7 p.m. Saturday, May 16. Enjoy a huge selection of gourmet food offerings, live music, storewide specials and amazing prizes, plus gain insider tips on wine and food parings from the Spec's experts. The fest is going on at two locations, Arbor Walk and Brodie Lane.
Rogness Brewing's 3rd Anniversary Party, 12 to 6 p.m. Saturday, May 16. $12 tickets will get you three beers and a special mason jar glass to celebrate three years of the Pflugerville brewery.
New Braunfels' Brewing's 2nd Anniversary Party, 1 to 7 p.m. Saturday, May 16. $18 tickets will get you a commemorative glass and three beers.
Whiskey Roundup at TenOak Bourbon House + Kitchen, 6 to 10 p.m. Wednesday, May 20. Sample 6 whiskeys and learn how to pair them with food. $15 in advance, $20 at the door.
Independence Brewing's Beer and Chocolate Pairing, 6 p.m. Wednesday, May 20. This guided flight of 5 chocolates matched with Independence Brewing beers will have your mouth watering before you even walk in the door. $25.
Sullivan's Steakhouse Patron Dinner, 7 p.m. Wednesday, May 20. Four-course dinner featuring pork belly tacos, tamales, braised beef shortribs and tres leches cake, all paired with a Patrón drink. $79.
Pre-Release Gose Tapping at Real Ale Brewing, 11 a.m. to 5 p.m. Saturday, May 23. The beer from last year's anniversary party is returning this year as a canned summer seasonal. Get a special early taste of the salty treat at the Blanco brewery's taproom.
Brews for Better Lives at Hops & Grain, 12 to 6 p.m. Sunday, May 24. $25 ticket includes live music, beer, 1 meal ticket, games and more, and all proceeds benefit the Whole Planet Foundation.
20 Wines for $20 at Tony C's Avery Ranch, 2 to 4 p.m. and 4 to 6 p.m. Sunday, May 24. A wine tasting with live music and light appetizers, to benefit Austin Pets Alive. $20.
Antonelli's Cheese Collaboration at Red Horn Coffee House & Brewing Co., 6 to 8 p.m. Wednesday, May 27. Five cheese, plus charcuterie, paired with Red Horn's house beers. $40.
Texas German Bier Festival, 3 p.m. Saturday, May 30. German-style bier tastings, live polka music and bowling. $25.
Read more at: http://spirits.blog.austin360.com/2015/05/01/may-drinking-events-calendar/