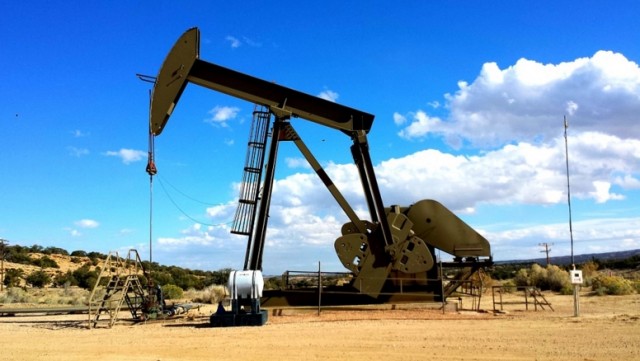 Over the last five years, men working in the oil and gas extraction industry have mysteriously dropped dead on the job. Several of the deaths were determined to be a result of cardiovascular failure, a cause the coroner deemed natural.
However, new information reveals the workers likely passed away after inhaling noxious vapors while sampling oil production tanks, according to a hazard alert released by the Occupational Safety and Health Administration and the National Institute for Occupational Safety and Health.
Since 2010, nine men working in the fracking industry have died suddenly; some of the fatalities were men as young as 20 years old, according to News 4 San Antonio. All of the deaths had one thing in common – the task they were performing before they died – a job that includes climbing on top of storage tanks to measure or sample the oil or gas condensate inside.
The industry calls it "manual gauging," which requires employees open the tank's "thief hatch" in order to lower a container inside and obtain a sample. The job is dangerous because opening the hatch exposes workers to a high-pressure plume of hydrocarbon vapors and gases, toxic enough to kill, instantly.
Vapors include carcinogenic chemicals such as benzene
It was this job that may have taken the life of 63-year-old Jimmy Dale Deweber of San Antonio, a long-time employee in the oil and gas industry who was discovered dead next to his truck hours after hanging up the phone with his wife.
Deweber worked in the industry as a driver for two decades. His job involved loading up oil and gas condensate from storage tanks, which sometimes involved manual gauging.
"So he would be working over this hole at the top of the tank to get this thief down and then pull it, wind it back up," Sue Deweber told the local news. Mrs. Deweber says she was on the phone with her husband one morning in January 2013 as he was about to begin loading up his truck near Fort Worth.
He promised Sue he would call her back in a few minutes, but never did. "I kept trying throughout that morning to get a hold of him and I couldn't get a hold of him," she said.
Later that afternoon Mr. Deweber was found dead next to his truck. The coroner ruled his death a natural as a result of heart disease, but his wife wasn't convinced.
"I know physically he was fine that morning when he left to work, he was physically fine. Something happened out there and I don't know what it was," said Mrs. Deweber.
Workers found slumped over tanks
Many of the oil and gas workers who died suddenly on the job were found "slumped over the tank hatch or laying at the base of the tank," leading investigators to suspect something else was at play.
"The common factor was that all had opened up the tank hatches. They had instantly been overcome by the toxic chemical vapors," said Dr. Robert Harrison of UC San Francisco, the lead researcher in the OSHA and NIOSH study.
The study found that "workers at oil and gas extraction sites may be exposed to very high concentrations of hydrocarbon gases and vapors when manually gauging or sampling production tanks."
Oil and gas workers "also face the risk of fires or explosions from high concentrations of hydrocarbon gas and vapors. These activities can also result in oxygen-deficient environments, which can cause loss of consciousness and death," the report concluded.
Death via exposure to chemical vapors can be easily overlooked by coroners if they fail to test for the proper toxins, says Harrison.
"It's quite possible that in some cases the medical examiners and coroners may initially suspect sudden heart attack but in fact the death is caused acutely by these toxic vapors that cause the heart to go into an irregular rhythm."
A dangerous job
OSHA says it's no secret many oil and gas jobs are dangerous, as the industry experiences "high rates of workplace fatalities." Every incident is preventable, said the agency's assistant secretary Dr David Michaels.
"It's critically important that we all work together to make sure that oil and gas extraction workers are aware of life-threatening exposure to hydrocarbon gases and vapors and low oxygen atmospheres, and that they are protected."
The industry is currently developing new methods for manual gauging. Scientists say workers should be given respirators equipped with fresh air. An even better solution is to develop technology to complete the task remotely so workers never have to be exposed to the toxic plume exiting the tanks.
Sources: